Top 7 Tips to Optimize Your Sleep
Ok, so, have you ever had trouble falling asleep or staying asleep? Who hasn't right!? Especially parents...we are always listening for that call in the middle of the night, especially when little ones are sick. And sleep in, nope, not when you have kids! That is a luxury of the past for this mamma!
But what I have found is that I feel so much healthier when I go to bed early and get up early! It just seems to work for me, or maybe I just tell myself that since I don't have a choice! LOL! My favorite time of day, actually is early morning when I get up to a quiet house and have a little me time to get ready for the day before the whole house is hopping! I find that to be so essential for me and I even do a little stretching/gentle yoga and meditation during this quiet time! It seems to set my mood and outlook for the day to be nice and calm!
According to Ayuveda, an ancient system of medicine, to balance the body it is best to go to sleep before 10 and rise by 6 or so! So maybe I'm on to something and not just imagining feeling better following this schedule!
But what else can we do to actually sleep at night and not just stare at the ceiling and watch the hours tick by? Well, everyone knows the basics of not exercising too close to bedtime and avoiding heavy meals, alcohol and caffeine too close to going to sleep. So, what other tricks do I use? Well, here's what I have learned, mostly through trial and error and lots of research. I bet some of this will be COMPLETELY new info for you!
My top tips that I use to sleep soundly and all night:
1. Light Regulation
I have found that it is essential for me to regulate when I am exposed to light and the kind of light too! I try to get lots of bright light and (if possible) sunshine first thing in the morning and throughout the day. This helps to set my "internal master clock" for being awake and alert during the day. Just as important, I try to limit my exposure to not only bright lights within 2 hours of going to bed, but to blue light. Blue light is emitted from light bulbs and especially devices like my TV, smart phone, tablet and computer. It is best to avoid all screens within 2 hours of going to sleep. But if this is not possible, then the next best thing is to get a pair of blue light blocking glasses (here's a great brand) and wear them at night, especially if you are watching TV or scrolling on Facebook! You can even download this free app: flux onto your computer which actually adjusts the blue light emitted by your computer based on the time of day (so less at night and more during the day!)! It's pretty cool, check it out!
Here's a pic of my cuties wearing their blue light blocking glasses before bed:
Another key is to have your bedroom ABSOLUTELY pitch black! Now to be honest, I didn't buy into this at first, but I figured I'd try it! So, I removed all sources of light from my bedroom, including covering all lights on alarm clocks. I also purchased room darkening shades. When travelling, I use an inexpensive sleep mask since I can't exactly bring along my shades! Well, let me be totally honest...despite my skepticism at first, making these small, simple changes made a BIG impact on how well I slept! Darkness really is key!
2. Minimize your EMF exposure, especially at night
What is EMF? It's electromagnetic frequency that you are exposed to constantly with all the Wi-Fi and smart devices in our environment. But did you know that EMF can affect your sleep? That is why I deemed our bedroom an EMF free zone! How did I do that you ask...quite simply! First, I made a rule that no smart devices are allowed in the bedroom while we are sleeping. So that means we unplug our smart TV, we turn off the WiFi and turn off all cell phones. We also charge phones OUTSIDE the bedroom. So many people use their phones as clocks or alarm clocks (I did) but it is soooo much better for your sleep and overall health to turn off the phone at night and use an old fashion alarm clock or better yet...wake naturally and refreshed with these tips! :)
Secondly, I invested in some EMF protection! Bet you didn't even know that was a thing! Don't worry, I didn't either until recently! I purchased simple little circular stick on "chips" that I put on my phone, iPad and iPod that block the radiation going into your body! They don't interfere with reception at all and they definitely work! I even tried to open my car with my remote key chain and if the chip is in the way, it won't unlock! That was proof enough for me! So, if you insist on putting your phone in your room at night, at least put this little sticker on there to protect you. You can get one here: Life Energy Designs.
I also purchased their device that provides a HUGE protective field for pretty much your whole house (same company here's their page on the little triangle). It is a little triangle that I keep near our router and computer. I even move it to the bedroom at night to not only block the harmful EMF, but it also claims to balance the energy. I feel like I sleep better with it in the room! It travels so easily too! Some of these little hacks really make a big difference, especially when combined!
3. Blood Sugar Regulation
This one proved to really be key for me. Sometimes I would wake up in the middle of the night and not know why, only to then hear my stomach growling! I have a very fast metabolism, therefore I have to eat a balanced dinner with a decent amount of healthy carbs, protein and healthy fats so I don't have a blood sugar dip in the middle of the night! I also avoid any sugar too close to bedtime. This is especially important for my kiddos! Not only will the sugar rush prevent them from falling asleep easily, but then when their sugar crashes in the middle of the night, they will again be awakened. So, if you must have a snack at night time, make sure it doesn't contain sugar or sugar spiking ingredients. A cup of soothing tea like Lemon Balm is a great choice and if you need a little food, cherries can promote sleep! You can even make non-caffeinated herbal tea and put a drop of Cinnamon Vitality Oil or Slique Oil, both help to support blood sugar regulation!
4. Essential Oils and a relaxing routine
Another HUGE needle mover for me was adding in a pre-bedtime relaxing routine with Young Living Essential Oils. I add a drop of Frankincense to my nighttime moisturizer for a soothing and grounding effect. If I shower at night I also use some Lavender Bath bombs (let me know if you'd like my recipe!) or just a drop of Lavender in my shampoo or body wash. I also LOVE, LOVE, LOVE my DIFFUSER! I usually opt for Lavender and Cedarwood (2 or 3 drops of each) in my Dew Drop Diffuser. For those of you who are oil newbies, a diffuser is a specially designed for essential oils and it safely and effectively disperses the aroma into the air and you get all the health benefits of the essential oils simply by sleeping in the same room as your diffuser! This works wonders for my kids too! They actually ask for their diffusers and they know which oils help them most! For my son, he prefers Peace & Calming and my daughter loves StressAway, which is a blend that contains Lavender, Cedarwood along with Vanilla, Lime, Ocotea and Copaiba.)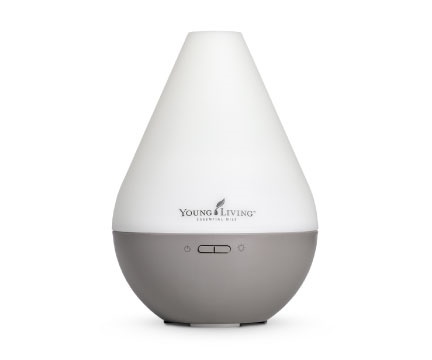 5. Cool bedroom
I'm sure this is a more commonly known tip, but I am always cold, so I didn't really think this would work for me. But, the key is to not make it too cool. Optimal temps (at least for me) seem to be between 65-68 degrees! Turn down your thermostat and you may sleep a little sounder AND save a few bucks on your utility bills! For some putting Peppermint Essential Oil on their feet prior to bed helps them cool down, breathe clearly and relax. But experiment because for some, Peppermint is too stimulating at night!
6. Supplement wisely
Ok, so this one is probably one you haven't thought of! I found that certain supplements, especially when I take them before bed, really support my sleep! One is magnesium. I take a powdered chelated magnesium prior to going to sleep and it definitely has helped me get a great night sleep! Most of us are deficient in magnesium anyway (you may want to have a blood test to see your status) and magnesium is known to calm and relax the body and muscles, so taking it at bedtime is a win, win!
Another issue to consider is not a well-known one and is called ammonia toxicity. Yup, I told ya I would share some tips with you that you have never heard of!!! Ammonia toxicity is a complicated situation that occurs when the body cannot clear the ammonia out that is produced from protein metabolism in the body. High levels of stress cause high ammonia levels. I have found that taking an amino acid called L-Ornithine before bed helps to reduce the ammonia levels in my body when I feel I am under stress. Helps me sleep all night and fall asleep easily as well.
7. What organ is under stress
Ok one last one for you and again, this may be a new concept for you! Did you know that all our internal organs have their own clock? If you consistently wake at a certain time each night, it can be an indication that a particular organ needs a little support! For example, I was waking every night between 3 and 5 AM for a while. I had no idea why but I learned that is the "lung time." So, I put on some Eucalyptus Essential Oil on prior to bed for a few nights and poof...no more night waking during those hours! You can check out a past blog of mine that I wrote a bit more about the time for each organ! If you need help figuring out foods or essential oils to support your organ of concern, I'd be honored to help you learn more! I have had a lot of personal experience with this, especially with waking from 1-3 AM!
I hope these tips helped you and were different than the typical sleep recommendations we already are well aware of! I wanted you to learn some lesser known issues that can be greatly interrupting the quality of your sleep! So, I hope you implement some things that help you or your children! Share with me what worked or maybe you have a tip that I didn't mention! I'd love to hear from you! Reach out: Contact me even if it's just to say hi!
Sweet dreams!
sources: https://www.curejoy.com/content/best-time-to-sleep...
http://articles.mercola.com/sites/articles/archive...
http://drjockers.com/15-tips-for-better-sleep/